Mana Sculpting
A blog and podcast
Avacyn Restored Set Review White
Posted by: Trevor Isham 1 year ago (comments)
As always I rank cards from 0-5 in both their limited and constructed playability.
Limited Rankings: 0=unplayable, 1=really don't want to play this, 2=Niche playable, 3=solid playable, 4=Good card, 5=Bomb/should move into this color
Constructed Rankings: 0=unplayable, 1=speculatively playable, 2=niche or sideboard playable, 3=sideboard staple, 4=solid constructed card, 5=constructed staple
The constructed rating is obviously much tougher and therefore we will most likely see a ton of zeroes in this category. I am also mostly a standard constructed player, but I will note instances where cards have constructed applications that range beyond standard. Also the rankings will always go Limited the Standard so it will look like Ranking: 4/3 which means it has a limited rating of 4 and a constructed rating of 3. Well let's get going!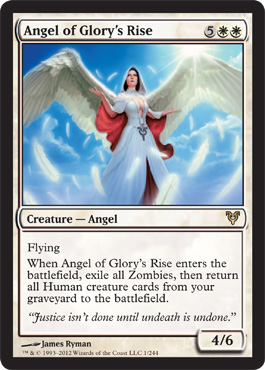 Angel of Glory's Rise: 4/1 A certified bomb in limited that is only restricted by its mana cost. It's not often you blow out there zombie squad but I do think you will probably be returning a good amount of humans cards most times you cast this. I wish this was a sideboard card in constructed, but it just cost too much to be good hate against the zombie deck you are supposed to play this against.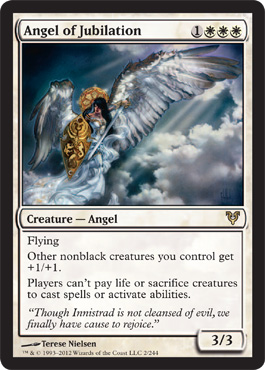 Angel of Jubilation: 4/3 A sideboard staple in constructed as it serves as Honor of the Pure
5-8 if necessary and can also shut down opposing Gut Shot
's and Birthing Pod
's. The mana cost is prohibitive in limited but opening this pack 1 pick can really help you force a color.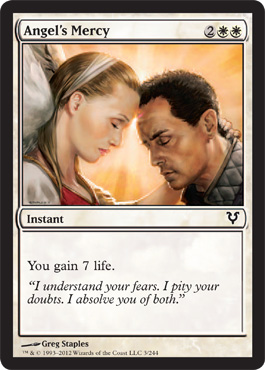 Angel's Mercy: 0/0 Never a card I want in any of my decks. Why would you ever play this when Timely Reinforcements
exists.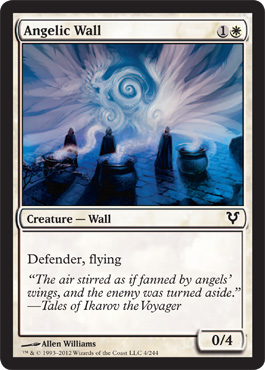 Angelic Wall: 3/0 A solid draftable card in a deck that wants to set up its late game angels. This card can save a ton of damage early and keeps you alive to get to your bombs. At two mana it is effeciently costed and can be dropped early.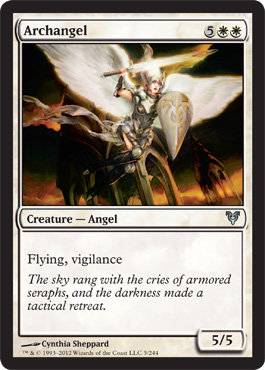 Archangel: 4/0 At seven mana she is very expensive, but she is also the largest non rare or mythic rare in the set. The white decks in limited seem to be set up to stall until the angelic host comes crashing in for damage galore.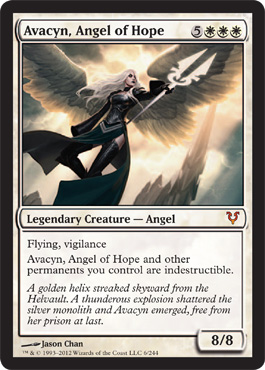 Avacyn, Angel of Hope: 3/0 This card will not see constructed play until Vapor Snag
rotates and even then I highly doubt it will see play as Griselbrand is a much better reanimation target. The problem in limited is that eight mana is ALOT. With that being said I would be hard pressed to leave this out of my sealed deck if I open her as landing her should win most games.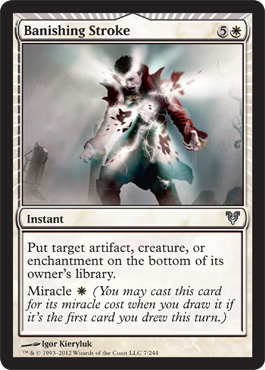 Banishing Stroke: 4/0 A removal spell for white that is excellent for miracle cost and good at full costs. This card does not have enough upside for constructed purposes, but should make most limited decks.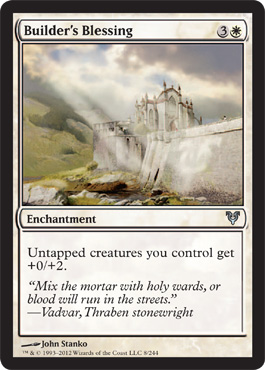 Builder's Blessing: 0/0 Just not good enough. Even if it was all creatures you control it still probably wouldn't be that great as Honor of the Pure
is still just better.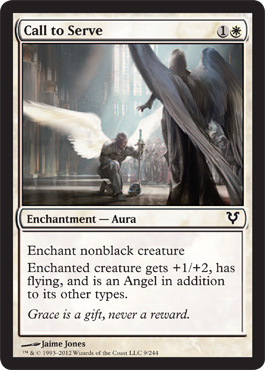 Call to Serve: 2/0 Auras have to be absurd to see constructed play and this one is not...in limited this is a great miser's card as it can just take over games if used correctly. Remember though that it can just as often be a two for one and it must be utilized carefully and I would never include multiples in my deck.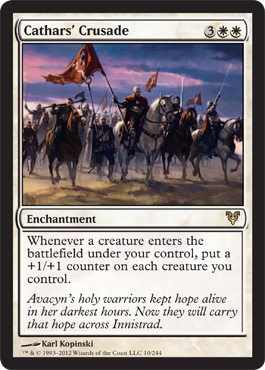 Cathar's Crusade: 4/0 This costs far too much mana to be constructed playable. It just doesn't fit on the curve and doesn't mesh well with decks that want to play creatures; since those decks are usually playing creatures that cost less than five. In limited though this is an excellent card to grind out constant advantage as every creature you play adds an anthem to your team.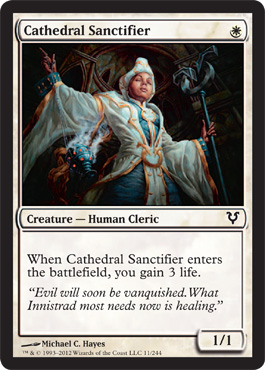 Cathedral Sanctifier: 3/1 A speed bump with upside is fine. He gets a speculative 1 for constructed since he is a white human...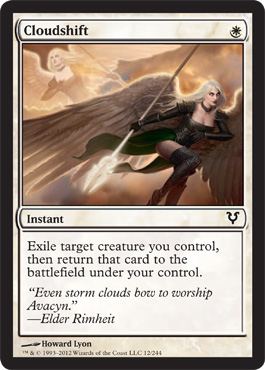 Cloudshift: 3/2 You can actually build your own Restoration Angel with this and Snapcaster Mage
which is kind of neat. I think a card with this much utility will at the very least be tried out in constructed. In limited it seems great as at its worst you are saving your guys from removal and at its best you are saving your guy from removal plus getting value out of soulbond or some other ETB trigger.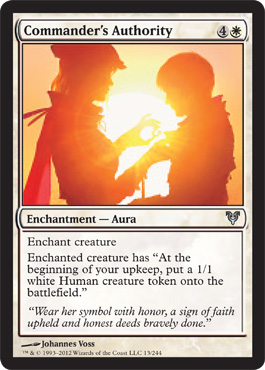 Commander's Authority: 2/0 Again a fine card to grind out advantage in limited, but be wary of getting two for oned.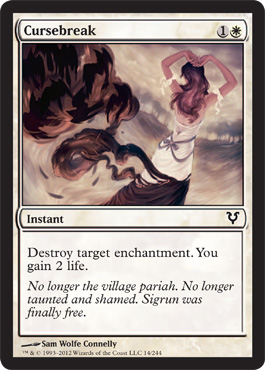 Cursebreak: 3/3 I give this card three's since I think it is an excellent sideboard card. I am not sure if the lifegain upside vs the utility of Revoke Existence
or Ray of Revelation
will win out in standard, but against the anthems in existence today I am pretty sure the lifegain is pretty valuable.
Defang: 3/0 A pseudo pacifism is nice and this set doesn't have a ton of removal for white so this is a fine card. The creature can still block or be sacrificed to one of the many sacrifice outlets in this set, but just shutting down their best creature on offense is sometimes all you need in limited.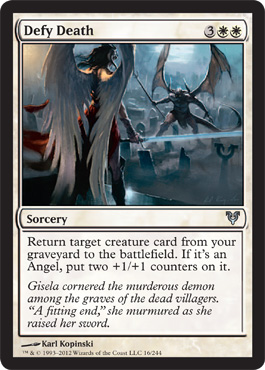 Defy Death: 3/0 For the white drafter at the table or the player with a great white angel sealed pool this card is excellent, borders on first pickable. The nice thing is that it costs double white so it shouldn't too much action on the draft tables and the guy who ends up with it will be quite happy.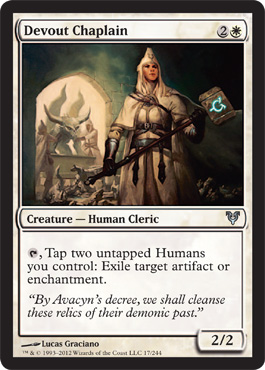 Devout Chaplain: 2/0 This is a fine card to have in your sideboard to get rid of any pesky enchantments or artifacts your opponents are playing. In standard it is far too situation and slow to rely on so I am going with unplayable there.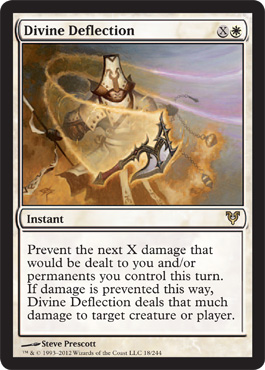 Divine Deflection: 4/3 An excellent combat trick that I believe is good enough that it might even see play in constructed. Stopping sword triggers turning the tables on your opponents burn spells, flipping combat math upside down. This card has a lot of utility and a ton of power. I love cards that reward skillful play and this card gets that job done.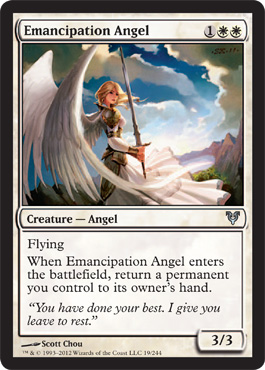 Emancipation Angel: 3/2 A 3/3 flyer for three mana is great and if you build around this card you might even be able to turn the drawback into a bonus somehow. The two rating in constructed reflects its utility and while I can't think of too many powerful interactions that don't involve Mox Opal
or Memnite
right now perhaps something will come up.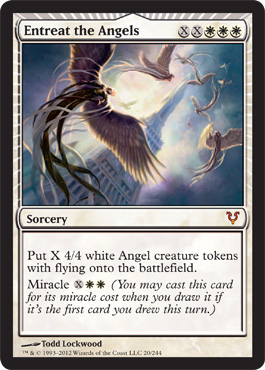 Entreat the Angels: 5/4 Ahh the first bomb and it's also mythic. This is one of the two most powerful cards in the set for limited (the other being Bonfire of the Damned). Casting this for miracle at any point past 5 mana and beyond will most assuredly win those games. It is too difficult to come back from one card generating 3-5 4/4 Flying Angel tokens in standard let alone limited. I believe the upside of this card is back breaking enough that will see a finisher role in white control decks for the next year to come. Miracling this for 7 total mana forces your opponent to have a wrath or die next turn. Not man cards at 7 are that much of an instant kill...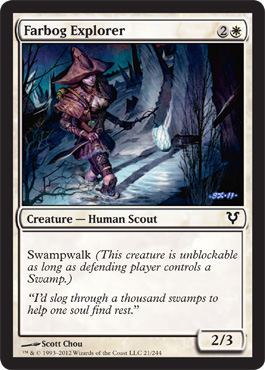 Farbog Explorer: 2/0 A 2/3 for three mana is fine and the swampwalk will sometimes be an excellent bonus. I think this card is limited maindeckable and should definetly come in against anybody packing swamps.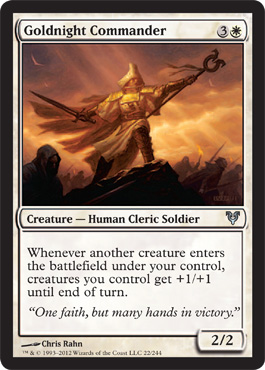 Goldnight Commander: 3/0 Most limited games you want to be casting a creature every turn, especially in Avacyn Restored (cough soulbond cough). Therefore this guy serves a similar purpose to giving our team an anthem every turn. I gave him a three since the repeatable anthem is actually a pretty big stat boost and should push through a serious amount of damage if used correctly.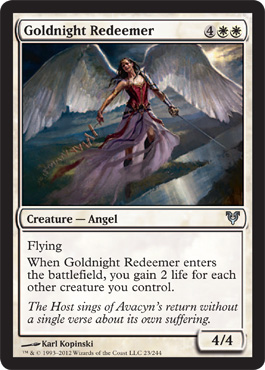 Goldnight Redeemer: 4/0 What a great stabilizer card. Holds down the air, gains you life, and can go on offense if necessary. The cost is high but not prohibitively so.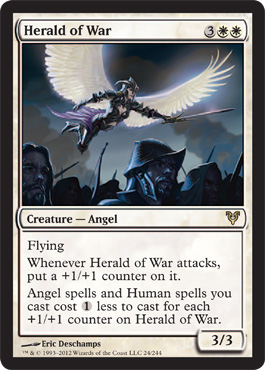 Herald of War: 4/0 This is almost a human/angel lord. But instead of pumping other creature types it pumps itself and makes those other types easier to cast. Let me say it again ANGELS!!! W/X Flyers!!!
Holy Justicar: 2/0 This card looks bonkers on the surface, but in reality there are only 10 zombies in the set...While a tapper is always valuable, don't think that this is going to be the zombie killing machine gun that you want it to be since the odds are not in your favor that your opponent will have that many zombies anyway.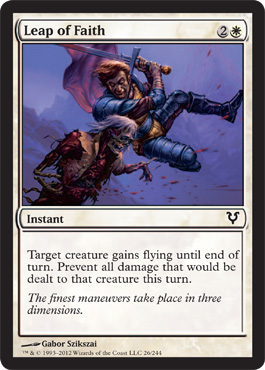 Leap of Faith: 2/0 Combat tricks are always nice in limited and this one is fine. I especially like the tricks that give your creature a better chance of surviving the trick and this card fits the bill. Flying is pretty key in this set and many limited games will be decided by who can control the skies; this card could play a pivotal role in support of that mission.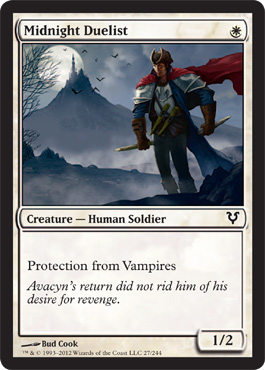 Midnight Duelist: 1/0 With only 7 vampires in the set his ability will very rarely be relevant.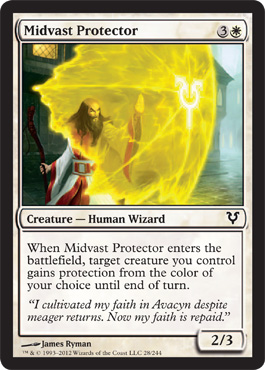 Midvast Protector: 2/0 Protection is always nice plus you might be able to flicker this guy for some extra value or combat trickery.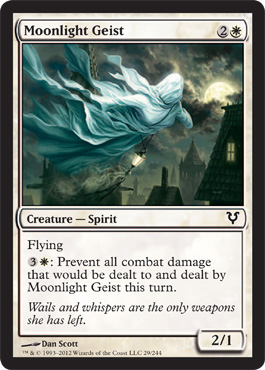 Moonlight Geist: 2/0 His ability is too expensive to really be valuable.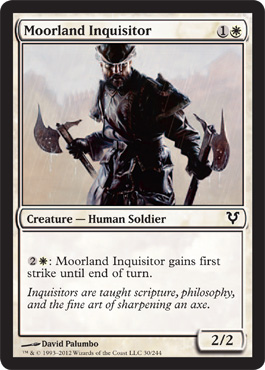 Moorland Inquisitor: 1/0 This is a worse Darkthicket Wolf
and if my opponent sinks their mana into this guy each turn I am fine with it.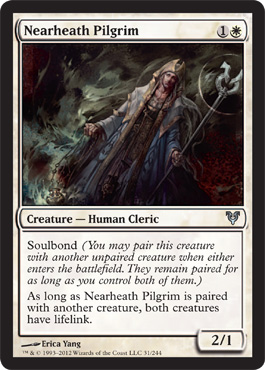 Nearhearth Pilgrim: 3/0 In a nice aggressive white deck this guy should be a solid role player since the lifelink is a huge blowout against any opponent that thought they might be able to race with you. The best thing about soulbond creatures is that they are almost never a dead draw. Early game you are happy getting some incremental value and late game you are fine making your bombs that much bigger.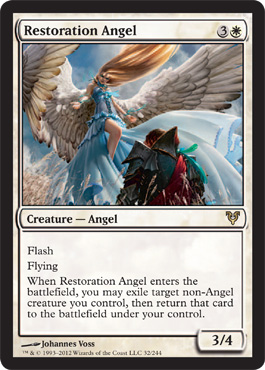 Restoration Angel: 4/4 A card that should see standard play for its potent utility and it's effectiveness against Delver of Secrets. It's not a bomb in limited but it serves as an excellent two for one against your opponents removal spells or in going to value town on ETB abilities.
Riders of Gavony: 3/4 Standard is actually very tribal right now and most decks are limited to just a few creature types. In a humans deck this guy can actually just crush board stalls by making your entire team unblockable in many situations. I am excited to see this card's impact on standard. It's not often a card gets a better standard rating than limited, but I don't think he will have the same impact on limited since people generally play a greater diversity of creature types (more by necessity than choice).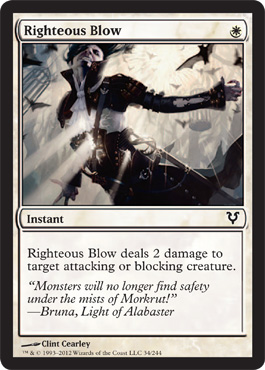 Righteous Blow: 3/1 "Does this take the place of Gut Shot
in standard?" has been a common question I have been getting. I don't think so. Mainly because Gut Shot
is really best at slowing down green deck's mana acclerating creatures and this card does not do that very well.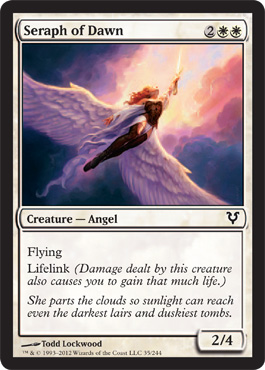 Seraph of Dawn: 3/0 An angel with a good sized butt that also has lifelink will almost always have a place in my 40 card decklists.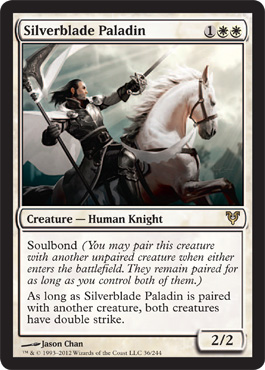 Silverblade Paladin: 4/3 One of the two best soulbond cards in the set. Double strike is really powerful and this guy is another perfect example of why soulbond is such a great mechanic, it's just never a dead card! I am firmly in the camp that says Soulbond will be one of the most popular limited mechanics for a very long time.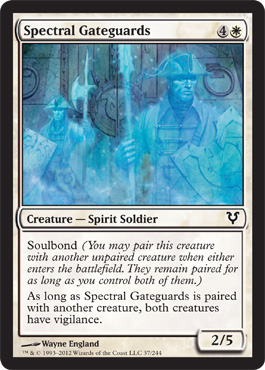 Spectral Gateguards: 3/0 I like guys that are resistant to removal and the extra value on this guy is excellent.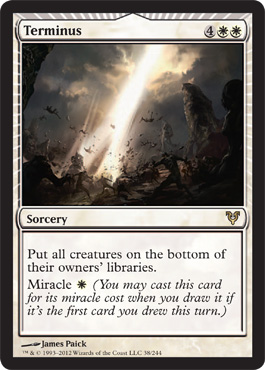 Terminus: 3/3 I am going pretty high on this rating for standard as I really believe this card is the real deal. The main reason I think this card will see significant play is that the non-miracle cost is not so obscenely prohibitive that you consider this a mulligan in your opening hand and the effect is powerful enough that you just sculpt your gameplan around making this a blowout when you unleash it on turn 6. I am excited to play with 4 Day of Judgment
and 2 terminus in standard for my W/x tap out control builds.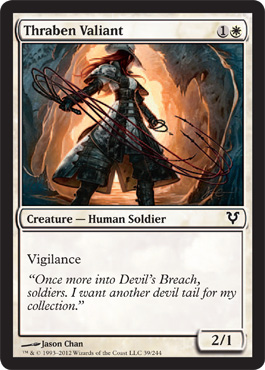 Thraben Valiant: 1/0 I have a hard time getting excited about this card since she is outclassed so quickly and has no long term upside.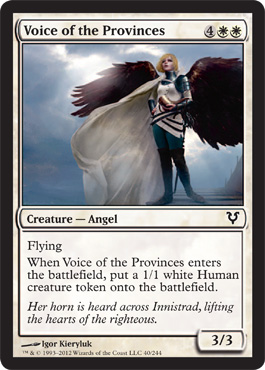 Voice of the Provinces: 3/0 At common this card will see frequent play and I really believe it should. It's a fine value card that is expensive but also offers two creature ETB triggers which in the right deck (combined with Cathar's Crusade for example) can be quite good.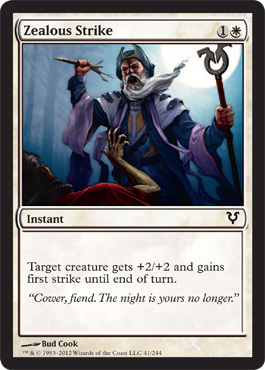 Zealous Strike: 4/0 This card will make every white deck I draft as I can't get enough of awesome combat tricks/removal spells. I have been playing this card in its every form for quite a few sets now and it still blows people out of games when used correctly.
That's it for white let's run down the two 5 commons and top 3 uncommons for limited and the top 5 cards for constructed and see how we fared.
Limited Commons
5. Angelic Wall
4. Righteous Blow
3. Seraph of Dawn
2. Defang
1. Cloudshift
Limited Uncommons
3. Defy Death
2. Archangel
1. Banishing Stroke
A lot of white's limited strength is contained within its rare angels, but I still think the color is strong as it contains a few good removal spells at common and a decent assortment of combat tricks. I will compare each color against the other colors in my wrap up article so look for that later in the week to get a better idea of where white fits in overall for drafting and sealed purposes.
Top 5 Standard Constructed Cards
5. Angel of Jubilation/Riders of Gavony
4. Silverblade Paladin
3. Terminus
2. Restoration Angel
1. Entreat the Angels
So I just couldn't decide on the last spot and hedged my bets...I think white got a heaping amount of great cards for constructed and it will be fun to see how they play out. The miracle cards could be very hit or miss and it will just take time and experience to determine if they are actually good enough for constructed. I am hopeful they will work out since they seem highly entertaining and I can't wait until I can start casting some miracles. Restoration Angel seems like an incredibly safe pick to make constructed waves and I can't wait to start taking her to value town. The others are much more situationsal but I think they all fit into the current metagame nicely (humans deck).
That wraps up my set review for White. Blue should be coming sometime later in the day or tomorrow. I am going to try to get the whole review to you guys before the pre-release but hey I still have a job to keep so no promises.
Trevor
from the blog
Archive
2012
2011
Categories
Tags
Authors
Feeds
RSS
Atom
Search the blog
Use "quotes" for exact phrases.
from twitter